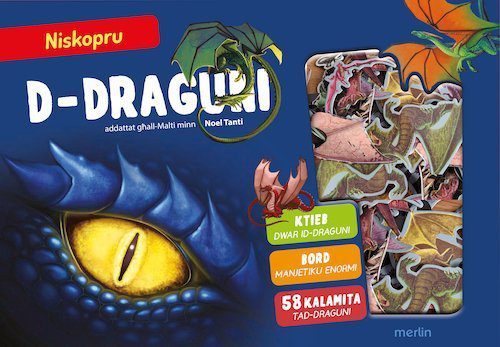 Sale!
Niskopru d-draguni [Kaxxa ktieb, bord u kalamiti]
by : Katherine Quénot Translator:
€19.95
Sizzling Summer Offer!
Spend €10 and get 10% off
Spend €20 and get 20% off
Spend €30+ and get 30% off
(excluding textbooks and soft toys)
Kaxxa rigal li fiha:
ktieb dwar id-draguni
bord manjetiku enormi
58 kalamita tad-draguni
Esplora l-univers affaxxinanti tad-draguni Poġġi 58 kalamita tad-draguni fuq il-bord manjetiku li juri pajsaġġ fantastiku. Issa f'idejk: Ilgħab, mexxi u oħloq id-draguni tiegħek inti! Ktieb ta' 64 paġna mimli tagħrif interessantissimu dwar id-draguni 58 kalamita tad-draguni biex tilgħab bihom kif trid int!
Dragun kbir li tarmah inti stess, bl-iskeletru b'kollox!
10 draguni biex tqassamhom u tqegħidhom f'posthom
Draguni li tista' tilgħab bihom fuq il-bord jew fejn trid int!
Xena spettakolari meħuda mill-istorja tad-draguni fuq bord manjetiku enormi! Il-kaxxa tinkludi ktieb ta' tagħrif, li bih anki inti tista' ssir parti mid-dinja tad-draguni. Minn fejn huma ġejjin? X'għamla għandhom? X'jieklu? U fejn nistgħu narawhom illum? Fil-paġni tal-ktieb se ssib dak kollu li tixtieq tkun taf dwar dawn il-kreaturi fantastiċi u meraviljużi. Il-glossarju fih lista ta' kliem interessanti li jgħinek issir taf iktar fuqhom. Mela lesti ruħek għal vjaġġ lura fiż-żmien biex tiltaqa' ma' dawn il-kreaturi inkredibbli! Ejja, tlaqna fuq din l-avventura!
ISBN: 9789990918441
Illustrator: Jenna Vincent
Publication Date: 2020
Page Count: 64